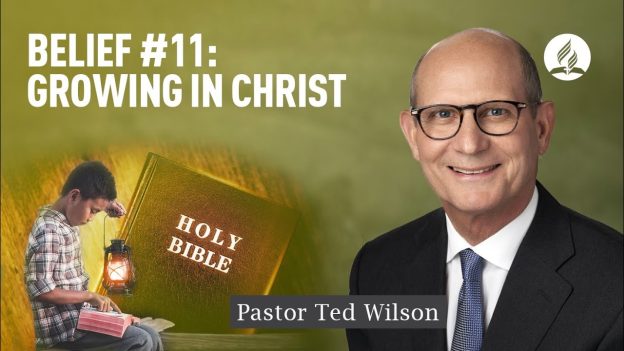 In this episode, Pastor Ted Wilson tackles the eleventh fundamental belief of the Seventh-day Adventists—growing in Christ.
Growth takes time. 
For instance, planting a garden requires a lot of work and care before the plants get mature. Similarly, raising a child takes years of nurturing before he becomes a full-grown adult. Even friendship takes time and commitment for the relationship to grow.
Growing in Christ is a wonderful privilege to have once we accept God's gift of salvation through Jesus. It begins with His death on the cross that redeemed us from sin. 
In Colossians 1:13 and 14, God "has delivered us from the power of darkness and conveyed us into the kingdom of the Son of His love, in Whom we have redemption through His blood, the forgiveness of sins."
In connection, Romans 8:1 says, "There is therefore now no condemnation to those who are in Christ Jesus, who do not walk according to the flesh, but according to the Spirit."
However, to "walk in the Spirit" requires death to self. "I have been crucified with Christ; it is no longer I who live, but Christ lives in me; and the life which I now live in the flesh I live by faith in the Son of God, Who loved me and gave Himself for me" (Galatians 2:20).
The closer we get to Christ, the more we love Him, and the more we become like Him.
"When the Spirit of God takes possession of the heart, it transforms the life. Sinful thoughts are put away, evil deeds are renounced; love, humility, and peace take the place of anger, envy, and strife. Joy takes the place of sadness, and the countenance reflects the light of heaven. No one sees the hand that lifts the burden or beholds the light descend from the courts above. The blessing comes when by faith the soul surrenders itself to God. Then that power which no human eye can see creates a new being in the image of God" (The Desire of Ages, p. 173).
This concept of growing in Christ is echoed in our eleventh fundamental belief. 
It states, "By His death on the cross, Jesus triumphed over the forces of evil. He Who subjugated the demonic spirits during His earthly ministry has broken their power and made certain their ultimate doom. Jesus' victory gives us victory over the evil forces that still seek to control us, as we walk with Him in peace, joy, and assurance of His love. Now the Holy Spirit dwells within us and empowers us. Continually committed to Jesus as our Saviour and Lord, we are set free from the burden of our past deeds. No longer do we live in the darkness, fear of evil powers, ignorance, and meaninglessness of our former way of life."
In closing, Pastor Wilson shares these four essential, practical building blocks for growing in Christ:
1. Prayer
Through prayer, we connect with God. 
Colossians 4:2 reminds us to "continue earnestly in prayer, being vigilant in it with thanksgiving."
2. Reading the Bible
The Bible is our faithful guide.
2 Timothy 3:16 says, "All Scripture is given by inspiration of God, and is profitable for doctrine, for reproof, for correction, for instruction in righteousness, that the man of God may be complete, thoroughly equipped for every good work."
3. Applying what we've learned
We must not only read the Bible but also do what it says.
As stated in James 1:22, "But be doers of the Word, and not hearers only, deceiving yourselves. For if anyone is a hearer of the Word and not a doer, he is like a man observing his natural face in a mirror; for he observes himself, goes away, and immediately forgets what kind of man he was. But he who looks into the perfect law of liberty and continues in it, and is not a forgetful hearer but a doer of the work, this one will be blessed in what he does."
4. Meeting with other believers
God wants us to encourage and strengthen our fellow believers for we are one family and one body of Christ.
"Let us hold fast the confession of our hope without wavering, for He Who promised is faithful. And let us consider one another in order to stir up love and good works, not forsaking the assembling of ourselves together, as is the manner of some, but exhorting one another, and so much the more as you see the Day approaching" (Hebrews 10:23-25).
As you grow in Christ, remember that He loves and cares for you. He died to redeem you from sin and give you eternal life. He dwells within you through the Holy Spirit, speaking to you in prayer and guiding you through His Word.