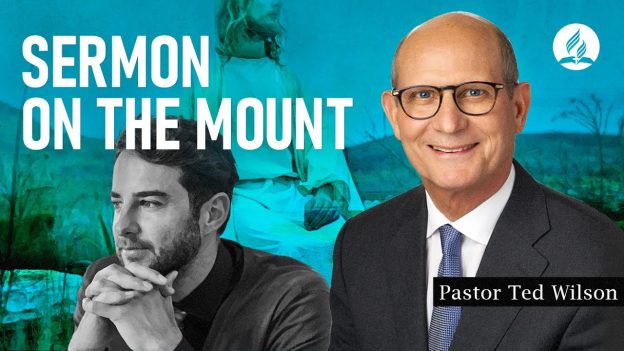 This week, Pastor Ted Wilson begins the discussion of the Sermon on the Mount, as Jesus rendered in Matthew 5–7.
In the book Thoughts From the Mount of Blessing, Ellen White dedicates her book "to His disciples whom still the Master is calling to choose the spiritual above the earthly kingdom, this little book is dedicated in the hope that its pages may unfold to them more clearly the glory of the unseen."
She continues, "The Sermon on the Mount is heaven's benediction to the world—a voice from the throne of God" (page vii).
The book opens with a series of blessings, known as the Beatitudes: "Blessed are the poor in spirit…blessed are those who mourn…blessed are the meek…Blessed are those who hunger and thirst for righteousness…blessed are the merciful…the pure in heart…the peacemakers…and those who are persecuted for righteousness's sake…" (Matthew 5:3-11).
Ellen White continues, "The Beatitudes are Christ's greeting not only to those who believe but to the whole human family. He seems to have forgotten for a moment that He is in the world, not in heaven; and He uses the familiar salutation of the world of light. Blessings flow from His lips as the gushing forth of a long-sealed current of rich life" (page vii).
The language of heaven is that of blessing, not cursing. It is a language of peace and joy, not envy and hate. For this reason, Jesus says in Luke 6:27, 28, "Love your enemies, do good to those who hate you, bless those who curse you, and pray for those who spitefully use you."
Jesus wants us to manifest love to our fellow men. As Ellen White writes in The Desire of Ages, "love to man is the earthward manifestation of the love of God. It was to implant this love, to make us children of one family, that the King of glory became one with us. And when His parting words are fulfilled, 'Love one another, as I have loved you' (John 15:12); when we love the world as He has loved it, then for us His mission is accomplished. We are fitted for heaven; for we have heaven in our hearts" (page 64).
In the following weeks, we will look more closely at the Sermon on the Mount.
Learn more about the sermon on the mount by reading Ellen White's book Thoughts From the Mount of Blessing. You can find it and more at https://egwwritings.org/.