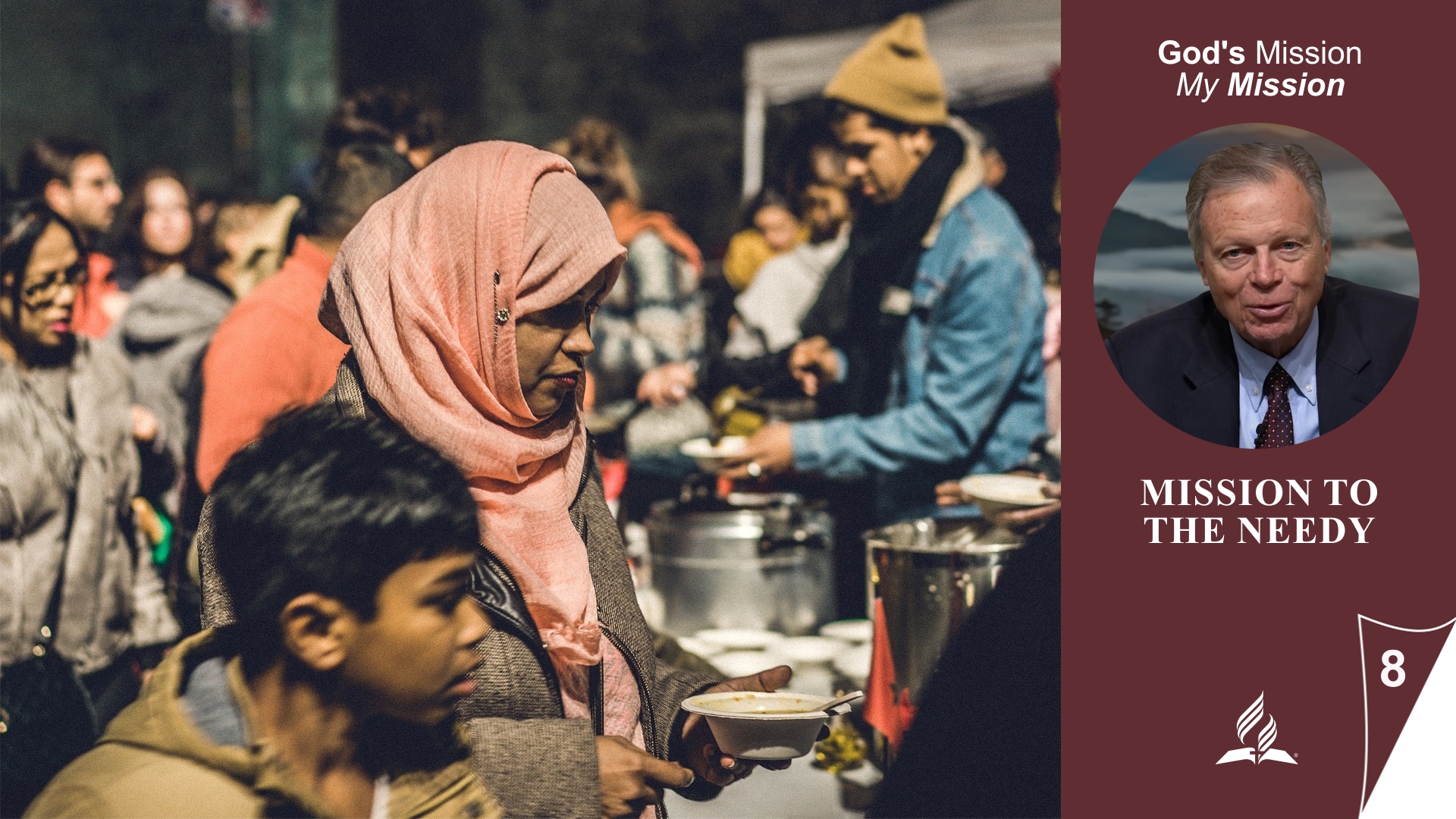 Series GOD'S MISSION, MY MISSION with Pastor Mark Finley  |
Lesson 8: Mission to the Needy |
Memory Text: 1: Matthew 25:40 – And the King will answer and say to them, 'Assuredly, I say to you, inasmuch as you did it to one of the least of these My brethren, you did it to Me' . |
Content:
8.1 The Faith of Friends
The story of the friends who brought a needy person to Jesus shows us the importance of faith, commitment, and creativity in serving others. These men took responsibility for caring for their friend, and God calls us to do the same. We should not hesitate to bring those in need to Jesus, as He is the great physician ready to forgive and heal the suffering. Ellen White encourages us to actively address the needs of the helpless and be a part of the plan of salvation.
8.2 Christ's Approach Alone

Christ's approach to serving the needy presents us with a five-step process to serve others and gain their trust. First, we must put ourselves in their shoes to understand their needs. Compassion is the key without expecting anything in return. The third step involves practical actions to fulfill these needs. Through these steps, we build trust and, ultimately, lead people to Jesus to offer them eternal life. This method demonstrates true success in service.
8.3 Refugees and Immigrants

The topic of refugees and immigrants is of great importance in today's world, with millions of people worldwide seeking refuge and assistance. The story of Jesus as a refugee in Egypt, as depicted in Matthew 2:13-14, serves as a reminder that even the Holy Family once fled danger and sought protection. It emphasizes the importance of supporting and advocating for immigrants and refugees, despite cultural and linguistic differences, as highlighted in Bible verses such as Deuteronomy 10:19, Psalm 146:9, Romans 12:13, and Leviticus 23:22. We should engage through prayer, information, and active assistance, even when it might pose political challenges.
8.4 Assisting the Injured

The world can often be hurtful, regardless of material wealth or poverty. Jesus' mission to bring the gospel to those in need and heal broken hearts reminds us of our duty to pay attention to the needs of people around us and provide help. This should be done unconditionally, driven by selfless love and compassion, aiming to serve those in need rather than focusing solely on winning them for Jesus. Our service should be rooted in understanding and genuine assistance to support individuals in their diverse life situations.
8.5 Greater Love

The greatest love we can show is to lay down our lives for our friends, as mentioned in John 15:13. We should apply this principle in our service to others by actively approaching people and bringing them blessings, just as Jesus did. By striving to build friendships, whether with refugees, immigrants, or neighbors, we can both serve them and convey the message of God's love. Our goal should be to be true friends to them and lead them to God as the ultimate helper.