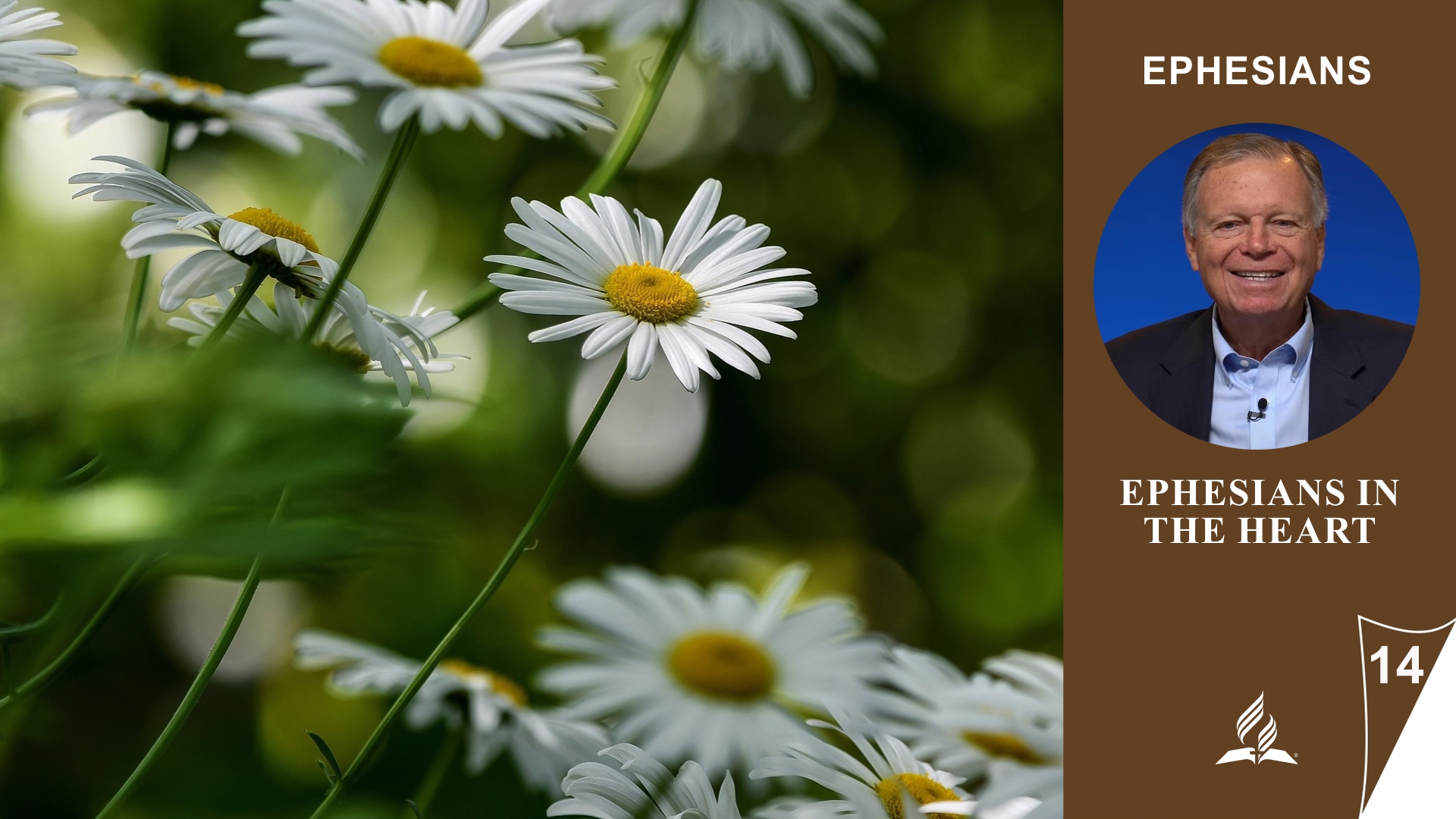 Series EPHESIANS with Pastor Mark Finley  |
Lesson 14: Ephesians in the Heart |
Content:
14.1 We Are Blessed in Christ

Ephesians 1 presents itself as a breathtaking panoramic view of the peaks of divine grace and the plan of redemption. The profound revelation of divine strategies before creation and their impact on our lives is inspiring and displays the heights of God's wisdom and grace. The peaks of divine strategies before creation, pointing to the future unification of all things in Christ, inspire gratitude and praise. Paul's prayer for the believers to experience the fullness of redemption in Christ serves as a reminder that we are privileged to live on the heights of God's divine plan by His grace. The Epistle to the Ephesians, particularly Chapter 1, offers a sublime outlook on God's comprehensive plan of redemption and invites us to live in gratitude and recognition of the obtained salvation in Christ.
14.2 We Are Redeemed for Community

Ephesians 2 conveys God's actions through Jesus Christ for us. He has brought us to life, raised us up, and seated us in the heavens through Christ. Through His grace, we experience solidarity not only with Christ but also with other believers. This passage emphasizes the fundamental doctrine of the Reformation: salvation comes solely through faith, grace, and Christ. Ephesians 2:8–10 was inspirational for Martin Luther and John Wesley, with the latter proclaiming this verse as the foundation of a new faith movement. Overall, this section underscores solidarity with Christ and the community of believers through God's grace.
14.3 We Are the Church of the Living God

 The significance of being part of the Church of God is passionately highlighted by Paul in Ephesians 3. Here, we learn about God's plan, involving the Church as a central element in His purpose for both Jews and Gentiles (Eph 3:3-10). Unification in Christ as a community is a source of hope and encouragement, as expressed in Paul's heartfelt prayer (Eph 3:14-21). Paul's intercession for the believers reveals that we are allowed to partake in the fascinating mystery of a united community.
14.4 The Unity of Faith

In Ephesians 4, Paul emphasizes the importance of unity within the church, starting with theological connection through the "one…" in the community of faith (Eph 4:4–6). He not only calls for maintaining this unity but also active participation by each individual to promote the health and stability of the entire body of Christ (Eph 4:7–16). This call for unity also involves turning away from past immaturity and internal strife to maintain a friendly and forgiving atmosphere in the community (Eph 4:17–32). The challenge is to live out the unity of the body of Christ not only in peaceful times but especially in times of conflict or difficulties.
14.5 We Are Recipients and Givers of Grace

In Ephesians 5, Paul urges us to reflect God's forgiveness and grace in our relationships, starting with the grace we have received from God. The call to imitate God by forgiving and showing mercy to others (Eph 4:32) forms the foundation followed by Paul in Chapter 5, presenting God's love as an example for our behavior in relationships (Eph 5:1-2). The transformation from a pagan lifestyle to a life in the light of Christ and the application of divine love to marriages are main themes that show how we can receive and extend God's grace.
14.6 Summary

In the Epistle to the Ephesians, Paul describes the Church in various ways, including as the body of Christ, God's temple, and the bride of Christ. However, in Ephesians 6:10–20, he calls the Church to be God's army, engaging in spiritual battle. While Paul uses military metaphors, he emphasizes peace, unity, and the spiritual fight against evil (Eph 6:15; 4:25–5:2). This call does not imply seeking physical combat but establishing peace through the gospel of peace. It is a call to engage in God's army in the fight against evil, equipped with God's armor and firm confidence in victory.